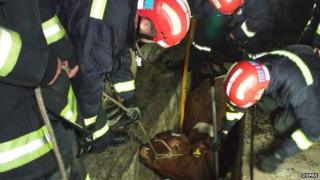 A cow in Devon has been rescued by firemen after it became stuck in its farmer's garage.
The 18-month-old had somehow managed to get onto the roof of the garage, located at the edge of her field, and had fallen through it.
The unlucky animal was stuck for 24 hours before she was found wedged in the garage's car inspection pit.
It took a special animal rescue team and several local firemen to free the animal, now safely back in her pasture.