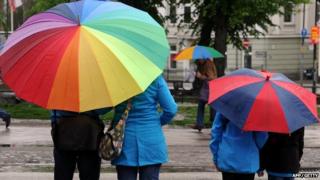 AFP/Getty
The Met Office - who look at the weather - have had a big meeting where they suggested that we could have bad summer weather for another 10 years!
So we put together our top five superb rainy-day activities to turn wet weather into wonderful weather:
5. Go for a Blue Peter badge
Blue Peter is always packed with fun ideas so why not use it to embark on some home-made projects of your own? That Blue Peter badge will be winging its way to you in no time!
4. Moving hide and seek
If you're bored of the traditional game, try 'moving' hide and seek, where the hider tries to move from one hiding place to another without being spotted. It's a fun and challenging game and provides a perfect solution for rainy afternoons.
3. Movie afternoon
Curl up with a good film and go creative by opening your own cinema - make popcorn, tickets and assign someone as an usher. You could even have a go at making your own movie by recording it on a smartphone or gadget!
2. Gaming tournament
Whether it's with board games, video games or computer games - why not set up your own gaming tournament? You could make the final trophy, draw ballots with your family and friends to see who plays who, and generally have a brilliant time!
1. Make your own newspaper/news programme
Budding journalists among you will like this one - why don't you write your own newspaper? You could interview your family members, make a special feature about your pets or even report and record your own bulletin? Come up with a crafty name for it, and remember to visit the Newsround website for inspiration!