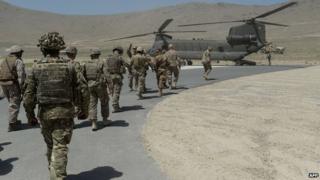 Nearly 4,500 soldiers are to lose their jobs after being made redundant.
The job cuts are being made as part of a plan to cut the number of regular soldiers from 102,000 to 82,000.
The government has said it plans to increase the number of reserve soldiers to ensure there are enough personnel.
The redundancies are being made because of big cuts to the defence budget.
Soldiers who are serving in Afghanistan will not be made redundant in this round of cuts, unless they have volunteered.