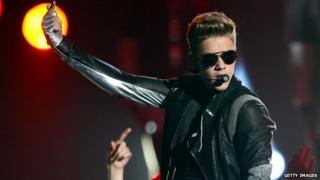 Justin Bieber has been involved in a late night car incident with a photographer in Los Angeles.
A video shows Bieber getting in his white Ferrari with a friend, after leaving a nightclub, surrounded by photographers.
His car hits a photographer that had stepped out as he tried to drive away.
Los Angeles Police Department confirmed the popstar was in an accident but said there was no crime committed.
They also confirmed the photographer is okay and was treated for an injury to his leg.