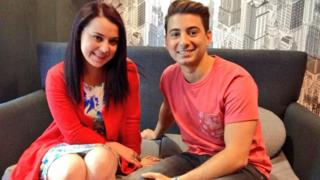 Dani Harmer talks body image
Dani Harmer has told Newsround that being on TV used to make her feel pressured about the way she looks.
Dani grew up on our screens as Tracy Beaker and said watching herself on TV could be misleading because it made her look bigger than she is.
Speaking about pressure from other people, she said: "I think it is quite a lot down to twitter and facebook. Some people have got nothing better to do with their time than just send abuse to people and I don't really understand it.
"It's really important to be happy with yourself."
Check out Ricky's interview with her at the top of the page.