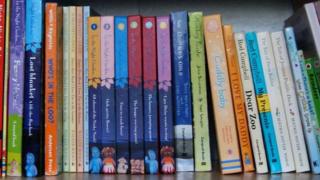 Ten-year-old Megan, from Devon, read a whopping 273 books in two months to be crowned winner of the Booktrust "Read For My School" competition.
The national reading initiative, for 9-11 year olds, took place earlier this year and involved almost 100,000 kids and 3,700 schools.
They had to read as many books as they could, in eight weeks, while teachers tracked their progress.
Winner Megan read lots of different kinds of books - from The Diary of Anne Frank to Romeo and Juliet.
As part of the prize, she's won 1,000 books for her school.
We asked you how often you read a book. Here's a selection of your comments.
Your comments
"I read all the time. At school, at home, and when I go on a car journey. I like reading Anne Frank, Jacqueline Wilson and Jane Eyre. Reading is an addiction!"
Hira, Scotland
"I read all the time! Books are part of my life that I would never part from!"
Hannah, Devon, England
"I love reading! I read whenever I have spare time and at every chance I get, on my kindle and with books."
Emily, Sheffield, England
"I really enjoy reading. It's great fun and very interesting as a hobby. It also helps with writing as it widens your vocabulary. I usually read for at least half an hour a day and a corner of my room is dedicated to shelves of books."
Katie, Newmarket, England
"I love to read magazines and comics, but when it comes to a fiction book I'm really picky. I love Jacqueline Wilson and Roald Dahl books, they always have me hooked. The book I'm reading now is Geek Girl by Holly Smale and it is awesome!"
Briony, Nottingham, England
"I always read books every night. I literally can't go to sleep without reading one!"
Shivani, London, England
"Every day I read for as long as I can before people start to wonder why I've been so quiet for the last few hours."
Vita, Birmingham, England
"I read so many books that I don't keep count. I love them!"
Kieran, London, England
"The best book I have read is Humphrey's Big-Big-Big Book of Stories by Betty G. Birney."
Lawson, Blackburn, England
"I am a bookworm, I read all the time. Once when I was seven, I read over 80 books in four weeks."
Riona, Wexford, Republic of Ireland
"I try to read every day, even if I'm in school. It does make it difficult because in my school I don't enjoy the books so it does not give me too much encouragement."
Hannah, South Powys, Wales
"I read two books each week."
Lucy, Inverness, Scotland
"Every day I read one of my Jacqueline Wilson or Cathy Cassidy books, though I've read them hundreds of times!"
Aribah, Birmingham, England
"I read a book every night before I go to sleep. I cannot go to sleep without reading a book, it is like a habit!"
Najeema, London, England
"I don't read at all. I like to do something fun, not sitting down reading. I don't ever read."
Bea, Beijing, China
"I go to boarding school, so before lights out we have about half an hour to have a little read. Also we have study period where we get to read or do some homework."
Ruby, Kent, England
"I read a book every day and get through quite a lot in a month. I have a whole corner of my room devoted to books and a pile by my bed which is getting bigger and bigger as I get more. I think that loving books runs in the family because my mum is an author."
Isabella, Devon, England
"I read every night, I love reading. I can't help reading until around midnight, that's why I'm really tired in the morning!"
Lily, Somerset, England
"I'm a total bookworm! My family (especially my brother) think I'm a kind of cyborg robot book creature! On Saturday and Sunday mornings, I wake up at 6:00 and read until 9:00. I wish I could have had a go at that competition! My favourite book's probably Jane Eyre by Charlotte Bronte, by the way."
Matilda, Stoke On Trent, England
"If I can, I'll always have a book at hand that I am reading. I read so much my mum says I am not allowed to buy any more books or I'll be skint!"
Madeline, Pontypool, Wales
"I read loads. Every evening and if it's a good book then in the daytime as well, but I'm not sure if I could read 273 in 8 weeks!"
Anna, Edinburgh, Scotland
"I read a book every night at 9:00pm - 10:00pm. I enjoy reading, it's really interesting. It also helps when I write a story in English it helps with my imagination. Me and my friend Tiffany like Jacqueline Wilson."
Georgia, Hampshire, England
"I usually read a book every night but on weekends sometimes I read for almost the whole day! Reading a book helps me be able to think about something when I go to sleep so then I won't be awake all night."
Noa, New Jersey, America
"I read a book every night and day. My favourite book is 'Hamstermagic' by Holly Webb and it is part of the animal magic series - I can't wait for the next book!"
Hannah, Sai Kung, Hong Kong
"I read everyday before I got to bed on a book or on my Kindle."
Mital, Slough, England
"If we find a book that interests us we will read a lot, but we think we would read way more if we had gadgets like Kindles. Some of our favourite books include Harry Potter, Tales of the Beadle of the Bard and Hunger Games."
Fin, Sonny, Travis, Harry, Dylan, Limmick, Norfolk, England
"I read a book each day for at least half an hour."
Jamie, Omagh, Northern Ireland