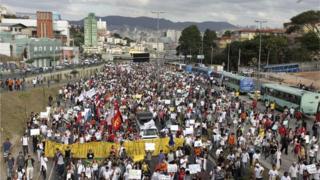 Brazil protests over World Cup
Hundreds of thousands of people have marched through the streets of Brazil in a series of massive protests.
People are angry about how much they have to pay to use public transport and how much money they say is being wasted on hosting the 2014 World Cup.
The protests are the largest Brazil has seen for more than 20 years.
The biggest were in Rio de Janeiro and in Sao Paulo but there have been demonstrations in other cities as well.
Brazil is also due to host the Olympics in 2016 but people are complaining that money should be used for health and education rather than building stadiums.