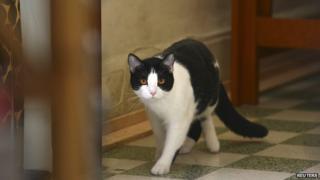 Could a black and white cat be the purrfect candidate for mayor of a town in eastern Mexico?
Morris the cat has been nominated for mayor of Xalapa by a group of people unhappy with their local politicians.
Since he was nominated with the slogan "Tired of Voting for Rats? Vote for a Cat", more than 100,000 people have taken to the internet to support him.
Morris' campaign group is asking supporters to write his name or draw a cat's face on the ballot.
The campaign seems to have inspired other people across Mexico as well, who have nominated other animal candidates in the country's July elections.
Chon the Donkey has been nominated in Ciudad Juarez, Tina the Chicken in Tepic and Maya the Cat in Puebla.