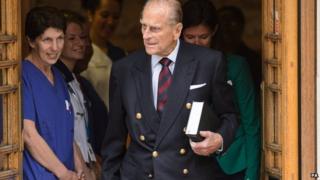 The Duke of Edinburgh has left hospital, 11 days after having surgery.
The 92-year-old shook hands with staff at the London Clinic where he'd been staying and waved to journalists as he got into a car.
Buckingham Palace say Prince Philip will take two months off royal duties to recover from the surgery.
The Palace had said the operation was pre-arranged and not an emergency. Over 1,000 people sent get well cards to the Duke whilst he was in hospital.