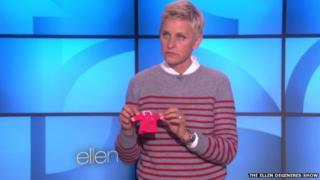 An online video, where clothes from US label Abercrombie & Fitch are donated to homeless people, has gone viral.
The video, by LA filmmaker Greg Karber, criticises the company's boss Mike Jeffries, who said in 2006 their clothes were only for "cool kids".
It's been seen more than seven million times since being published last month.
Last month, chat show host Ellen DeGeneres joked on her TV show about the label's "size double-zero" shirts - holding up a doll's shirt.
The remarks from Abercrombie's boss, Mike Jeffries, were made in an interview way back in 2006, but the row has recently resurfaced online over the company's sizing policy.
The largest size the company offers for women is large, while men are able to buy clothes in XL and XXL sizes.
In the 2006 interview with the US website Salon, Jeffries said: "In every school there are the cool and popular kids, and then there are the not-so-cool kids.
"Candidly, we go after the cool kids. We go after the attractive all-American kid with a great attitude and a lot of friends."