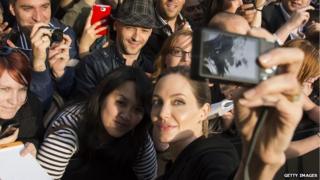 Hundreds of millions of digital photos taken by people in the UK are never downloaded, according to research.
A recent survey of 3,000 people by a phone company suggests that Britons now take more snaps than ever - an average of 1.9 billion every month.
And it's thought that about a third of those - a whopping 631 million digital photos - never make it off the device they're taken on.
We asked you what you do with the photos you take? Here's a selection of your comments.
Your comments
"Whenever I take pictures on my camera I upload them onto my computer. Sometimes I set them as my screensaver because when you turn on your computer and see the picture, it's nice to remember the memory."
Sukhraj, Hounslow, England
"I usually put them on my netbook and edit them. I then put the best ones on social media or e-mail them to my friends."
Rhoslyn , Rotherham, England
"I usually take them, put them on a USB stick, make them into a slideshow of the ones I want to send to my friends, then print them out. I never delete my photos in case I need spares."
Siani, Newport, Wales
"I put them in a scrapbook to keep as memories."
Zia, Scunthorpe, England
"My family would usually just leave them on the camera and might even delete them if we run out of memory. But if there are special pictures such as birthday pictures then we would get them printed off."
Chelsea, Washington, England
"I end up just leaving them on the gadget I take them with and I see them the next time I use it."
Rebecca, Gloucestershire, England
"I put my photos on the computer and then print them out. Then I put them on my wall and when they have been there for a long time I put them in the bin!"
Lauren, Surrey, England
"When I take photos on my phone, they just stay there. Sometimes I upload my digital camera photos to my computer and send them to family, but I never print any but I wish I had now because I've lost many old pictures."
Ella, Devon, England
"I always keep my photos on my phone because most of them wouldn't be worth printing out anyway!"
Harry, Essex, England
"I only print off my photos if they're really important or I need them for homework. The rest of them linger around on my phone or camera and eventually just get deleted."
Natasha, Cornwall, England
"I post everything on social media like Instagram, Twitter and Facebook."
John, London, England
"I take the pictures and go through them, deleting ones that I don't like. The ones that I like stay on my phone, where I can see them whenever I like."
Emma, Oxford, England
"I keep them in an album and if I have nothing to do on a rainy day I get them out and look at them. Sometimes I show my photos to my friends."
Emma, Staffordshire, England
"When I take a photo on my phone I keep it to myself . I'm not on Facebook or Twitter and I don't see the reason to show your photo to the world."
Dave, County Kildare, Republic of Ireland
"I leave my photos on my phone. Then I can peek at snippets of my memories any time without looking to find those dusty photo albums. It also doesn't cost with the ink for the printer. It is much more practical!
Hannah, Devon, England
"My Dad transfers all our pictures from the family camera onto the computer and we look through them on there from time to time, but we don't send them for printing. The ones on my phone stay on there and I show people them on my phone when I want to because it's more portable."
Katy, Wetherby, England
"I have a photo album that I got for Christmas and I put all my pictures in there or I put them in a scrapbook. I love looking back at all my old photos!"
Sadhbh, County Wexford, Ireland
"I save the pictures on my laptop because I might lose or break my phone which would result in me losing all my pictures."
Kaoutar, Manchester, England
"I download all of mine and then scrapbook them."
Charlie, Bedfordshire, England
"My family and I put them in albums and send them to all our family to see around the world. Then it sometimes comes back to us or my Grandma keeps them."
Safia, Slough, England
"My family and I keep them in the loft and I have Instagram so I sometimes put my pics on there."
Francesca, Selby, England
"I try and go through my photos at least once a month. That way, if I have any duplicate pictures I can delete them and save memory space."
Ameerah, Glasgow, Scotland
"Whenever I take pictures they always stay on my phone. I have uploaded the pictures from my phone to my laptop once ages ago but never again. I think they might just end up staying on my phone where they should be safe. "
Shivani, London, England
"I usually take a lot of photos from holidays and different places I go. After I get them downloaded onto the computer and get them sent to me. My favourite photos I put on my wall and the others I put in an album."
Noa, New Jersey, USA
"I usually take them from my phone to my laptop into a memory stick. I take the memory stick into the photo shop then they get printed."
Shontae, Wellingborough, England