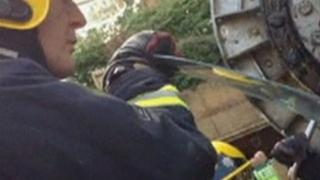 Video: Theme park rescue as ride jams
39 people had to be rescued from a ride at the Chessington World of Adventures theme park, after it got stuck in the air.
Most of the people on the ride were children and were stuck on the Rameses Revenge ride for more than three hours.
Fire crews had to remove safety harnesses and brought everyone to the ground on ladders.
They said no one was injured but a few people were uncomfortable after being stuck for so long.