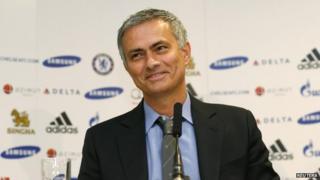 Jose Mourinho has said he didn't want to be the new Manchester United boss.
The Chelsea manager claims he knew months ago of Sir Alex Ferguson's plans to stand down as Manchester United boss, but says he was always set on returning to Stamford Bridge.
Ferguson left Old Trafford in May after 26 years in charge and has been replaced by David Moyes.
Mourinho said: "I knew that Ferguson was retiring many months ago.
"I would have turned down every job in the world - the Manchester United job, everyone - for Chelsea."