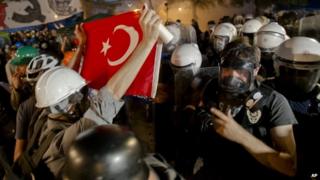 Protesters have clashed with police in Turkey after riot squads tried to remove them from a park in Istanbul.
Police used tear gas and water cannon to try and clear them from the protest camp in Gezi Park.
Witnesses said it was the worst night of unrest since the protests began 18 days ago.
The protesters quickly fled but later built barricades across nearby streets and lit bonfires.
Plans to build on the park have sparked two weeks of protests, the biggest in decades.
Protests in the park have spread to wider anti-government demonstrations across the country.
On Saturday thousands of people also took to the streets of the capital, Ankara, to show their support.
It's thought many people in the country are unhappy because they believe the government wants to take away some of their personal freedoms.