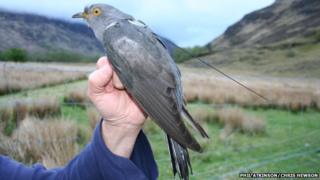 Four cuckoos have been caught and fitted with satellite tags in an effort to track their migrations from Scotland.
The birds were caught by a team from the British Trust for Ornithology who will track them throughout the year.
Cuckoos were once widespread across Britain but recently their numbers have been going down in the south of the country.
Every year the birds fly from the UK to the Congo Basin in Africa to escape the cold weather.
The team hope that by tracking the birds they'll be able to find out why their habits are changing.
John Calladine, who's working on the project, said; "An important part of this work will be in identifying areas and habitats used by the birds throughout the year, even across years."