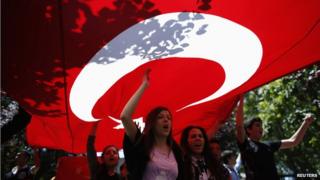 Turkey's government has agreed to put plans to redevelop Gezi Park on hold until a court rules on the issue.
Plans to build on the park in Istanbul sparked two weeks of protests, the biggest in decades.
After late-night talks yesterday with protesters camped in the park, Turkey's leaders said the project won't begin until a court decides whether or not it's legal.
If the court backs the government, the public would then be allowed to vote on whether they want the project to go ahead.
Protests in the park have spread to wider anti-government demonstrations in 78 cities across the country.
It's thought many are unhappy because they believe the government wants to take away some of their personal freedoms.