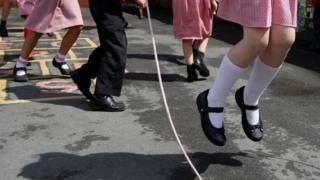 Children have been banned from wearing frilly socks to school by their headmistress because of health and safety fears.
It's after one of the pupils tripped and fell over at Kingsholm Primary School in Gloucester.
Head teacher Jan Buckland says socks with frills longer than 3cms are not allowed because they trail on the floor.
Some parents say they're going to ignore the new rules, but if children still wear frilly socks, they will be forced to change into plain ones bought by the headmistress.