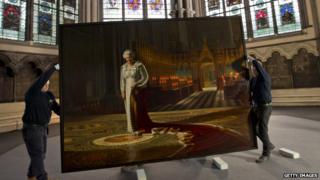 A portrait of the Queen in Westminster Abbey has been damaged with spray paint, according to an abbey spokesman.
Police at Scotland Yard said a 41-year-old man has been arrested on suspicion of criminal damage after being detained by security guards.
The painting by Ralph Heimans went on display in May and shows the Queen in state dress.
It was completed last year for the Queen's Diamond Jubilee celebrations.