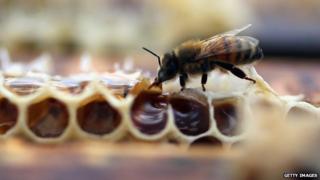 The number of honey bees in England has fallen dramatically because of the bad winter.
The British Beekeepers Association say that more than a third of bee colonies didn't survive because of the cold and wet conditions.
This year's figures are the worst since beekeepers began keeping records six years ago.
Glyn Davies, a beekeeper from Devon, said; "It is desperate; it is a huge loss of bees"
The worst hit area was the South West where over half of the hives were lost.