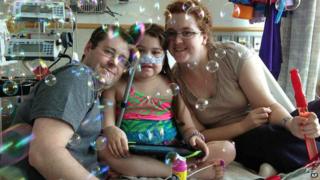 A ten-year-old girl has been given a new set of lungs after winning a legal battle to be allowed them.
Sarah Murnaghan from Pennsylvania in the United States has cystic fibrosis, which stopped her lungs from working properly.
Normally anyone under the age of 12 is given a lung transplant from a child, as adult lungs are too big for their bodies.
But a top judge decided that Sarah was so poorly that she should be allowed to be put high up on the adult transplant list instead.
The current law in America meant that any transplant organ from an adult that became available had to be offered to someone over 12-years-old, no matter how ill they were, before it was offered to anyone under 12.
But because more adult organs become available than ones suitable for children, Sarah's family argued that the system wasn't fair.
Last week a judge decided that Sarah and another 11-year-old with the same illness should be allowed to be put high up on the waiting list to have adult lungs instead.
After the operation on Wednesday her mum said; "Her doctors are very pleased with both her progress during the procedure".