One Direction have launched an anti-bullying campaign to help school kids in the United States.
The boys helped design a range of stationery and wristbands by choosing inspirational words and colours.
There's even a range of nail varnish in colours chosen by the One Direction boys.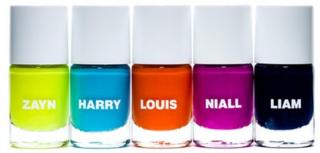 Press Handout
The products will go on sale in US store Office Depot in autumn and some of the money raised will fund an anti-bullying scheme for US schools.
The boys have also recorded an anti-bullying video which will be broadcast on TV and at their concerts.