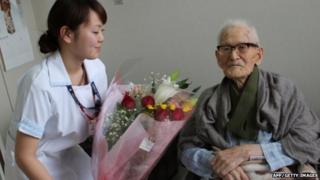 The oldest man ever to have lived has died at the age of 116 in Japan.
Jiroemon Kimura, who was born on 19 April 1897, died of natural causes in Kyoto.
He was recognised by Guinness World Records as the oldest man recorded in history. Mr Kimura was also the world's oldest living person.
It's reported that he had seven children, 14 grandchildren, 25 great-grandchildren, and 13 great-great-grandchildren!
In an interview on his 115th birthday, Mr Kimura said he was not sure why he was able to live so long.
"Maybe it's all thanks to the sun above me," he said. "I am always looking up towards the sky, that is how I am."
He worked in his local post office until he retired.
It's said he helped his son with his farming until he was around 90 years old!