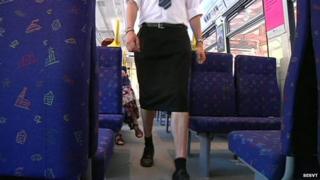 A group of male workers, who hit the headlines after they decided to wear skirts to work because of uniform rules, will be allowed to wear shorts say bosses.
Train workers from Arriva in Sweden are only allowed to wear trousers or skirts because bosses think shorts don't look 'neat and tidy'.
But some staff said it was too hot to wear trousers so began wearing skirts in protest at the rules.
The dozen drivers on the Roslagsbanan line, north of Stockholm, have worn skirts to work for the past two weeks.
But now the company says it has listened to its staff and that new shorts should be available this summer.
"We received so many suggestions from our staff, and we listened to them and decided to change our minds on this issue," said spokesman Tomas Hedenius.
He also told Radio Sweden that if the drivers wanted to carry on wearing women's clothing "then that's up to them".