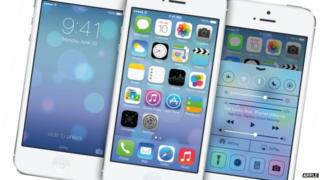 Apple has unveiled the latest version of the mobile operating system which powers its phones and tablet computers.
The smartphone giant said it had "completely redesigned" iOS7 to "make it feel more alive".
The update gives the phone a 'flatter' look and adds a handful of features that Android and BlackBerry 10 phones already have.
Apple say the new software will be available to download in Autumn.
New features
The refreshed software moves away from a style called 'skeuomorphism', where textures like leather and felt are used in apps to make them look like everyday objects.
One of the improvements is a feature called Control Centre - a drop-down menu that lets you change a frequently used setting quickly.
Voice assistant Siri is also updated and can now search the web using Bing - a search engine made by Apple rival Microsoft.