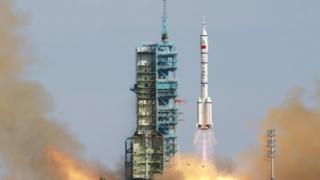 Watch China's space rocket launch
China has launched its Shenzhou-10 rocket and blasted three astronauts into space.
The commander, Nie Haisheng, and his crew, Zhang Xiaoguang and Wang Yaping, will spend about two weeks at the Tiangong space lab.
It takes just over 40 hours to get from Earth to the Tiangong space lab which is 335km (208 miles) above the planet's surface.
China plans to put a permanently manned station above the Earth, like the International Space Station.
The video of the launch shows the rocket lift off from the platform in Jiuquan, Inner Mongolia.
About a minute into the video the rocket boosters detach from the craft as planned, and the rocket continues its ascent into space.