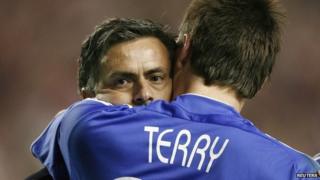 Returning Chelsea manager Jose Mourinho has said John Terry will remain captain of the club.
Mourinho said: "John is the club captain. I'm more than happy with that and so are the fans."
But he insisted there'll be no special treatment for any of the club's old boys.
On Terry, he said: "With the armband? Only when he plays. If he isn't in the starting XI he won't have the armband."
Terry was a key player under Mourinho when he was last in charge of Chelsea, between 2004-7.
But the Blues' last manager Rafa Benitez didn't always select Terry.
Mourinho called himself "the Happy One" when he was officially unveiled as Chelsea coach on Monday.