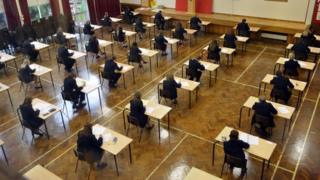 Tougher new GCSE exams are being unveiled for students in England.
From 2015, they'll be graded eight to one, instead of A* to G, and the pass mark will be higher.
There'll be a move towards essay-based exams at the end of two years, instead of coursework and assessments during the course.
The content will be harder too - for example, English will require studying a 19th-Century novel and a whole Shakespeare play.
Pupils currently in Year 7 will be the first to take the new style GCSE.
The changes will first apply to 'core' subjects - English language and literature, maths, physics, chemistry, biology, combined science, history and geography.
National Union of Teachers (NUT) accused the government of not talking to teachers properly about the changes.
Wales and Northern Ireland are not making any of these changes to their GCSEs.