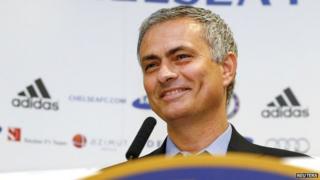 Forget the Special One - you can call Jose Mourinho "the Happy One"!
The former Real Madrid boss has been officially unveiled as the new Chelsea manager.
"I am the Happy One," Mourinho said in a press conference on Monday. "Calmer? I believe so. I'm in the best moment of my career in terms of knowledge."
He also said he wants to stay until the end of his four-year deal with the Blues, which was confirmed last Monday.
Mourinho added: "I began management in 2000. I thought I knew everything, but after 13 years you realise you know nothing and have to learn every day."
He managed Chelsea between 2004-7, during which he won five major trophies - two Premier League titles, two League Cups and an FA Cup.