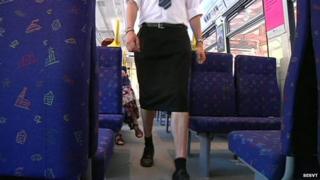 A group of male train drivers in Sweden have started wearing skirts to work on hot days - to protest against a ban on shorts!
Their train company Arriva has uniform rules that only allow workers to wear trousers or skirts.
But the drivers and conductors say it gets too hot in the summer to wear trousers.
Conductor Basri Veseli explained: "It is warm, so we don't have a choice. This is why we have to do it."
'Neat and tidy'
Tomas Hedenius, Arriva's communications manager, said: "According to our regulations, a skirt or long trousers fits the uniform. To wear shorts does not. That's the judgment we have made, it looks neat. Many of our passengers appreciate that the train personnel look neat and tidy."
Arriva are not stopping the male workers from wearing skirts, who have been doing it for the past two weeks.
The 13 skirt-wearing workers are on the Roslagsbanan line, north of the capital Stockholm.
But there are downsides to wearing a skirt to work.
Driver Martin Akersten said: "The skirt is not appropriate when we have to go down on the rail tracks and separate wagons. And to climb to and from platforms, as well as getting off from the train. The skirt is a bit too tight for that. Shorts would me more flexible as clothing."