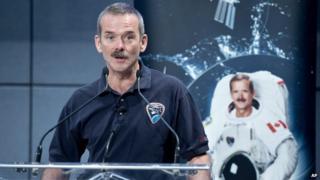 AP
Canadian astronaut Chris Hadfield - who entertained the world from high above it with videos and pictures from space - is retiring.
Cmdr Hadfield, whose videos include how to make a sandwich in zero gravity, says he is moving back to Canada because he had promised his wife that is what he would do.
The 53 year old was the first Canadian to command the International Space Station. He returned from his third space mission in May.
He will officially retire on 3 July from the Canadian Space Agency (CSA) and move home from the US.
He has lived in Texas since he became a fighter pilot in the late-1980s and was later assigned to the Nasa Johnson Space Center in Houston by the CSA.
Time to recover
In a press conference outside Montreal, Cmdr Hadfield said he was ready for the next stage of his life.
"I've had such an interesting career and after 35 years it's time to step down."
He said he doesn't know what he will do next yet, but he is concentrating on recovering from his last trip to the ISS, as space travel really affects the human body.
True Canadian hero
Canadian MP Chris Alexander said: "Chris Hadfield has inspired all Canadians, especially our next-generation of scientists and engineers,"
He added: "His exceptional career achievements make him a true Canadian hero and icon."
Check out our pick of Cmdr Hadfield's top 5 space videos.