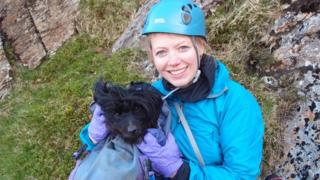 A dog has been rescued from a mountain in Wales, 10 days after he got stranded there when he saved his owner's life.
Sutty the King Charles spaniel was a real hero after his owner fell 450 feet down Carnedd y Ffiliast in Snowdonia - the 14 year old dog managed to alert rescuers by barking.
But when the RAF helicopter arrived to pick up his owner, who is a 60 year old man from Wolverhampton, Sutty ran off because he was scared.
Rescue teams said they couldn't find him anywhere and put posters of him up in the nearby town, hoping someone would find him.
Luckily, ten days later a couple of climbers heard a dog whimpering and they knew it must be Sutty.
Sian Williams (who is in the picture with Sutty) and Rob Shepherd found him on a ledge where he had dug a little den for himself to keep warm.
They then carried Sutty back to safety in a rucksack. He has now been reunited with his owner's daughter while his owner is still being treated in hospital.