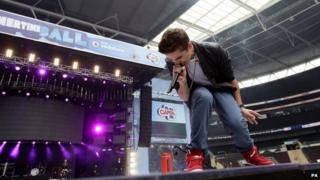 The Wanted's Nathan Sykes has made his first appearance on stage since having surgery on his vocal cords.
He rejoined his bandmates to open the show at the Capital FM Summertime Ball at Wembley Stadium on Sunday.
Nathan joked that he was going to miss watching daytime TV and playing video games!
Bandmate Max George said: "It feels pretty awesome. We've missed him. We've been slogging it out for over two months now as a four.
"We have to do a lot less now he's back because he's quite heavy with the vocals which is cool for the rest of us."
Nathan had throat surgery on his 20th birthday in April to save his voice.