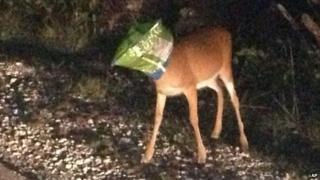 Oh deer! Take a look at this poor deer in Florida, who needed a bit of help after getting its head stuck inside a crisp bag!
Monroe County sheriff's deputy discovered the animal while out on patrol on Saturday night.
A spokeswoman said the animal allowed the bag to be removed without a struggle.
Key deer are an endangered subspecies of white-tailed deer and live in the Florida Keys in America.