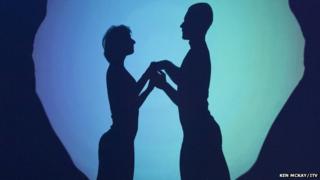 Shadow dancers 'Attraction' won a drama-filled Britain's Got Talent final.
The dance group from Hungary put on a British-themed show and wowed the judges.
But on a dramatic night, eggs were thrown at the judges including Simon Cowell.
During Richard and Adam Johnson's performance a member of their backing group ran from the back of the stage and threw the eggs.
Security moved her away, but her appearance did take the attention away from the singing brothers.
In the end attraction won the most votes beating comedian Jack Carroll and the Johnson brothers.
Their unique performances have attracted lots of attention over the series and their performance in the final was just as eye-catching.
But did the right act win? Were Attraction the most talented? And if not - who should have won?
We wanted to know what you think!
If you send us a comment, it may be published on the Newsround website, and some comments may be used in our TV bulletins. We'll use your first name and your home town to show that it's your comment; your personal details won't be used for anything else.
Your Comments
"Attraction were the best because they were creative and put a lot of effort in to it."
Eloise, Surrey
"Attraction were very good but my favourite act was Steve and Arthur Lager because it was clever and funny at the same time. I even voted for him!"
Emily, Essex
"I think richard and adam should have won because even though that girl threw eggs at the judges they still carried on plus they were amazing."
Freddy, Gosport
"To be honest they're really clever but I thought that the Luminites, Jack Caroll or Francene Lewis should have won. I really liked attractions lion though."
Rose, Rochester
"I think they should have won because they could make amazing objects and shapes with their body, and me and my friend can't even make the easiest shape!"
Lauren, Eastbourne
"Everybody who made it to the tense finals should have won. I loved attraction, but I have to admit, I was behind Jack Carroll all the way!"
Chloe, Osgodby
"I think Jack should of won because he was a small boy and had very quick thinking so he deserved to win!"
Isabelle, Newark
"I think Jack Carroll should have won because the jokes he creates and tells are hysterical. Although Attraction were outstanding."
Sophie, Norwich
"They definitely deserved to win because they were really good! In my opinion, they were THE most talented performers of the night!"
Lola, Aberystwyth
"I think they should have won because the first time I saw then I loved then and thought they will win."
Caitlin, Shropshire
"Attraction was good but I think there was better acts like Jack Carrol"
Jessica, Sunderland
"I think Francine should have won, I have a soft spot for impressionists."
Lizzy, London
"I think attraction should have won because it was the best act and it was something new.who cares that there not from Britain. There were brilliant and everybody liked it."
Jack, Newcastle
"I definitely think that attraction should of won because the were absolutely great from the start of the audition."
Fatima, Bristol