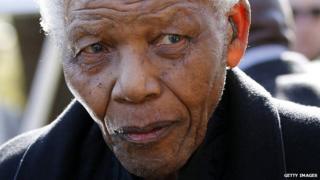 The former president of South Africa, Nelson Mandela, remains in hospital with a lung infection.
Jacob Zuma, the current president, said on Tuesday that Mandela is "very serious but stabilised" and that "all are praying" for his recovery.
Relatives, including his ex-wife Winnie Madikizela-Mandela, visited Mandela on Tuesday.
The 94-year-old was taken to hospital in Pretoria on Saturday.
It is the third time this year Mandela has been admitted to hospital.
Prayers are being said in churches across South Africa for Mandela.
Who is Nelson Mandela?
Mr Mandela was elected president of South Africa in the country's first democratic elections.
He spent a lot of his life in prison after protesting against the way South Africa was ruled, a system called 'apartheid' which kept white and black people apart.
It meant that black people in South Africa had fewer rights and couldn't vote. White people controlled what jobs black people could have and even where they lived.
Mandela is now seen as being responsible for helping to end apartheid.
National Hero
To many people in South Africa, and around the world, he's seen as a hero and is one of the most famous men on the planet.
For lots of people he is known as 'Madiba', after a South African tribe.
A spokesman for the political party he led, the ANC, described how important Mandela is.
"Madiba is the personification of humanity, friendship, honesty, integrity. He means all of these things to us", Jackson Mthembu said.
"Without the calibre of Madiba's leadership, the likelihood is that South Africa would have gone to ruins ...He not only spoke to everyone, but spoke reason to everyone. That will be the legacy of Madiba."