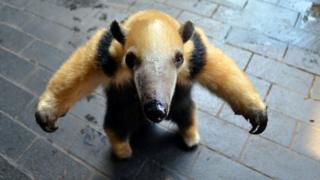 Tammy the tree-climbing anteater, who lives in London Zoo, will be given her own minder this summer.
The cuddly creature, famed for being friendly, loves wandering around the public walkways of her home.
But with naturally poor eyesight, anteaters have a tendency to be on the clumsy side and twelve-year-old Tammy is no exception!
To make sure the fluffy blonde and black resident doesn't get hurt, a zookeeper will be helping her.