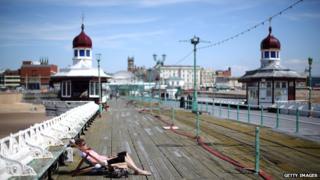 Much of Britain is set to bake in more sunshine this weekend.
Thursday was the country's hottest day of the year so far - with temperatures hitting 25C in Solent in Hampshire.
Although some rain could hit parts of the UK, the sun will stay so we want to know what you're getting up to in the sun?
Perhaps you're heading to the beach to build sandcastles? Or maybe you're having an outdoor party with your mates?
Your comments
"I am loving the hot weather! Plenty of time to play and it makes you do your work quicker as you want to go outside! Best of all, you get to eat LOADS of ice cream too!"
Simran, Essex, England
"The hot weather is amazing after all of the horrible weather. I'll sit in the garden and have cold lemonade. Yum!"
Lola, London, England
"We are going for an outdoor picnic on Saturday and we might even be having a barbecue!"
Tilly, Nottingham, England
"I am playing in my garden with friends and my cute little dog. It is so much fun!"
Alex, West Yorkshire, England
"It's rare for sunny weather in Scotland so yes I'll enjoy soaking up the heat outside with a good book."
Rachel, North Lanarkshire, Scotland
"I'm really enjoying the weather. At school we were having a mini disco!"
Anita, Southend-on-Sea, England
"I am having a barbecue with my family and I am going to play cricket at the local cricket nets with my dad."
Kiefer, Birmingham, England
"Eating cookies and sunbathing with my friends."
Jessica, Durham, England
"I love the hot weather! Mainly because I get to swim in my pool, eat ice creams and be outside!"
Charlotte, Gainsborough, England
"I love it 'cause we are going to have our school disco outside."
Helena, Hillingdon, London
"We're going to have a barbecue with all our friends and family and our new dog Maisy."
Erin, Slough, England
"I love sunny weather because you get to smell fresh air and play in the garden all the time!"
Azahar, London, England
"I can't wait 'til Saturday, I am going to the beach with my friends and their parents, it's going to be so fun. I am also going to have lots of ice cream!"
Sinead, London, England
"We are having an outdoor dinner on the newly painted chairs. I can't wait!!!"
Megan, Oxford, England
"I'm going to play in my garden and make smoothies and milkshakes."
Lula, Brighton, England
"I'm hating it because it's hot in my room at night and it's not windy."
Ellis, Bridgend, Wales
"I love the hot weather! Mostly because I can play with my friends and eat lots of ice cream! I am writing this with an ice cream in my hand! :)"
Rowan, Bromyard, England