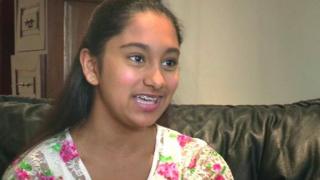 A 13-year-old school girl from London has joined Mensa after getting a perfect score in her IQ test.
Neha got the maximum child score of 162 in the high IQ society's test - making her brainier than geniuses like Albert Einstein and Stephen Hawking!
She said: "When I found out I got such a high score it was so amazing and unexpected."
The teenager likes playing chess and reading, and hopes to become a brain surgeon when she's older.
Mensa is an organisation for people with an IQ in the top two percent of the population.
"Stephen Hawking, Albert Einstein, they've achieved so much," Neha said. "It's not right to compare me to them just because of my IQ.
"If I don't put in my effort and make use of my IQ then there's no point in having it."
Neha moved to the UK from Bangalore in India when she was seven.
There are currently 858 British Mensa members under 16.
The average adult IQ score is 100, according to Mensa.