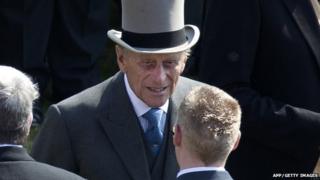 The Duke of Edinburgh has had an exploratory operation on his belly area.
The surgery is done by doctors to find out if there's a medical problem.
The Queen's husband, who turns 92 on Monday, is expected to stay at the London Clinic hospital for two weeks.
Buckingham Palace said the duke was "progressing satisfactorily", and the hospital visit was planned - not an emergency.
He went into hospital straight after a palace garden party on Thursday. Guests said he didn't appear unwell.
The Queen has been carrying on with her royal duties. On Friday she officially opened the new BBC headquarters in central London.
Prince Philip has been admitted to hospital three other times in the past two years after health scares.
Last August, Prince Philip was treated for a bladder infection in Aberdeen, Scotland.