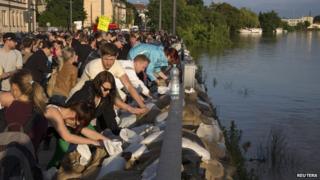 People in the German city of Dresden have worked through the night to build up flood defences, as the swollen waters of the River Elbe reach a peak.
Long lines of volunteers could be seen on river banks, passing sandbags to each other, helping emergency crews.
As of Wednesday, the Elbe was running some 7m (21ft) above its normal levels.
It's been caused by a wet spring and sudden heavy rainfall, leading to flooding across central Europe.
So far 13 people have died in the floods across Germany, Austria and the Czech Republic.
Parts of Germany have seen the highest levels of flooding for centuries.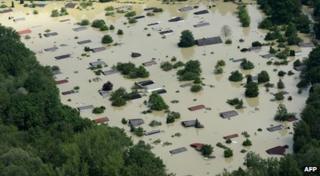 Evacuations
In the town of Deggendorf in the state of Bavaria, hundreds of people were evacuated on Wednesday, some winched to safety by helicopter.
Some 12,600 people have been evacuated in the state as a result of the floods, according to the European Commission.
Overall, nearly 30,000 people have been evacuated in Germany.
The floods are so widespread, the European Commission has warned it has run out of emergency money to help the countries affected.
Rivers in the central Polish province of Lodz have also reached dangerously high levels.
In Hungary, a flood on the Danube is expected to peak in the capital, Budapest, on Monday.