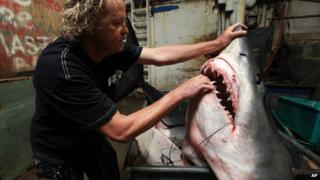 A professional fisherman has found himself in hot water with conservationists after catching and killing a huge mako shark.
It took Jason Johnston two-and-a-half hours to reel in the giant fish that measures eight feet around its middle!
It weighs as much as a car and Jason reckons it's the biggest mako shark ever caught.
But some animal rights groups say Jason should have weighed the shark and released back into the water.
But rather than letting it go free, he killed it and took it home to be weighed.
He's now handed the fish over to be checked and measured.
If the catch is confirmed, it would beat a 1,221-pound (550 kg) record mako catch made in July 2001 off the coast of Massachusetts.
'Potential world record'
Jason's catch has led to a lot of criticism from animal rights groups.
Conservationists argue that it's wrong to catch and kill sharks as their numbers are already under threat.
But according to the law in California, where the fish was caught, Jason hasn't broken any laws.
Kent Williams, who owns the fish shop where the monster shark was taken to be kept safe defended Jason: "Any sport fisherman who has a potential world record is not going to release the fish.
"I don't care what they say, if they have a potential world record, they're going to take that fish," he said.