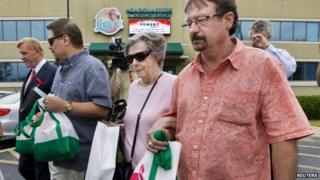 An 84-year-old woman from Florida has won the largest unshared jackpot in American lottery history - a prize worth £383m!
Retired mum Gloria MacKenzie said she bought the ticket at a supermarket after another customer let her go ahead of them in the queue.
The biggest lottery win in US history was $656m in March 2012 - but that was split three ways.
Gloria was the only winner of a $590m prize.
However, she opted to take one big sum of about $370m instead of receiving the full amount, bit by bit over 30 years.
She appeared at the lottery headquarters in Tallahassee with her son but did not speak to the camera crews waiting outside.
According to reports, Ms MacKenzie lives in a small, tin-roof house in Zephyrhills, Florida. She'll now be able to afford the house of her dreams!