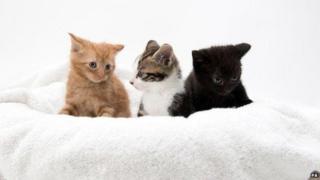 Three feline residents at an animal home have been found to have an unusual feature - an extra toe on each of their four paws!
The five-week-old kittens, named Pudding, Brenda and Niall, and their mother arrived at the Battersea Dogs and Cats home when their owner fell ill and was unable to care for them.
Staff in Battersea's cattery later noticed there was something different about the litter of kittens - they had 12 extra toes between them!
Cats normally have five toes on each paw but some cats, known as polydactyl cats or mitten cats, are born with a genetic mutation that gives them extra toes.
Mitten cats
Debbie Coker, who works in the cattery at Battersea Brands Hatch, said: "To get three kittens in a litter with extra toes on all four paws is quite unusual.
"They are very sweet kittens and will definitely get lots of attention."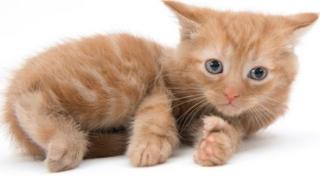 The six-toed kittens are just some of the many cats at Battersea looking for new families.
The Kent branch of the animal charity took in around 320 cats in 2012.
Unwanted cats
Debbie said: "Our three centres are currently inundated with unwanted cats and we are desperate for more homes."
Pudding, Brenda and Niall will be ready for re-homing once they are nine weeks-old.