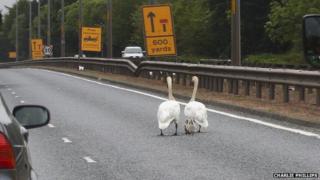 Two adult swans and their four young cygnets caused a five-mile traffic jam as they made their way over the Kessock Bridge at Inverness.
The birds wandered along one of the lanes of the busy A9 road.
Their appearance held up traffic for at least 20 minutes, leading to long queues of cars.
Charlie Phillips, who photographed the scene, said everyone worked really hard to make sure the swans were not harmed.
Police and the Scottish SPCA were called to the scene and the swans were eventually taken to safety.