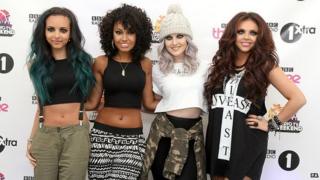 DNA by Little Mix has scored the highest ever US chart debut by a British girl group's first album.
The X Factor winners' debut album went straight into the Billboard charts at number four.
US fans bought more than 50,000 copies of the album in its first week of release.
More Americans became interested in Little Mix after their track Wings appeared on two of the country's top shows - Glee and American Idol.
Jade from the band told the BBC how it feels to join the likes of One Direction and Ed Sheeran on the growing list of successful British acts in the US:
"We can't believe it. We were going to happy with being in the top 10 so to get to number four is just a bonus," she said.
"We're so grateful for all the support we're getting because we're still not massive over here."
Back in November 2012, Little Mix told Newsround's Ricky they wanted to follow in One Direction's footsteps and crack America.