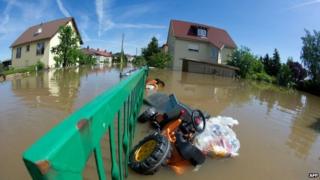 The German city of Dresden is the latest to be hit by severe floods, with 600 people having to leave their homes there.
The level of the River Elbe in the historic city is not expected to peak until Thursday morning.
Recent heavy rains in Central Europe have led to record levels of flooding in Germany, Austria and the Czech Republic.
Parts of Germany have seen the highest levels of flooding for centuries.
In another eastern city, Halle, streets were under water on Wednesday morning. According to German news magazine Spiegel, it is the highest water level in the city in 400 years.
Pictures: Flood chaos in central Europe
But the floods are receding in the south German city of Passau, where the clean-up operation has begun, with people sweeping up muck from their streets.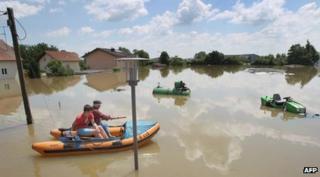 Thousands of people left their homes in the Czech Republic in recent days as floodwater threatened to overwhelm flood barriers.
But in the Czech capital, Prague, the river level has lowered and the situation is improving.
At least 12 people have died and two are missing as a result of the floods across the three countries.