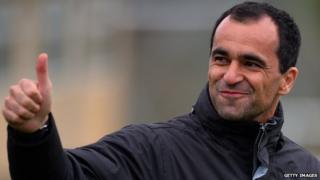 Roberto Martinez has been confirmed as Everton's new manager.
The 39-year-old won the FA Cup at Wigan this season, but resigned from the club a week ago after failing to keep them in the Premier League.
He'll take over from David Moyes, who recently said he was leaving for Manchester United after 11 years.
Wigan chairman Dave Whelan, who allowed Martinez to speak to other clubs, is already looking for a new boss.
Under Roberto Martinez, Wigan finished 16th twice and in 15th place in 2012 before slipping to relegation this season.
Moyes has 'set a high standard'
Martinez will take charge of an Everton team that finished sixth in the Premier League last season.
He said: "A large amount of my backroom staff will come with me. The fans need to know they are the most important part of this club, and I will need them.
"What David Moyes has done is set a real high standard. We need to make sure we are a winning side and a strong side that can carry on achieving more.
"Finishing in the top-six was a magnificent achievement, and we need to keep building if we want to improve on that."