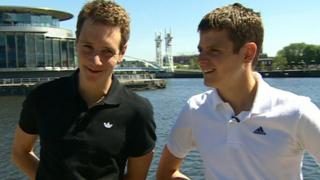 Brownlee brothers on 2013 hopes
The Brownlee brothers won gold and bronze in the triathlon at London 2012 and are still very much on top of the world in their sport.
Johnny's joined his big brother Alistair to talk to Joe about their busy year and being best of buddies.
The brothers talk about launching their own triathlon to encourage more people to give the sport a go.
Alistair also talks about his chances of competing in the 10km at the 2016 Rio Olympics.