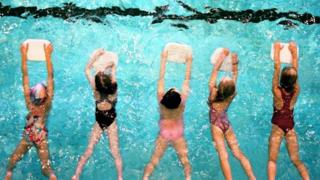 Prince William has called for swimming lessons for all children at primary schools.
The Duke spoke out after an investigation by the amateur swimming association revealed that more than half of children aged between seven and 11 can't swim 25 metres by themselves.
The Prince said: "Swimming is unique: it is the only sport that can save lives, which is why I'm so keen for school swimming to be accessible for all children at all primary schools."
The Prince is the patron of the English Schools Swimming Association and represented Scottish Universities at water polo.
He says in the video: "Swimming has always been important to me - I was very proud to represent Scottish Universities at water polo and both Catherine and I will never forget the excitement and pride we felt cheering on Team GB in the Aquatics Centre last summer at the Olympic and Paralympic Games.