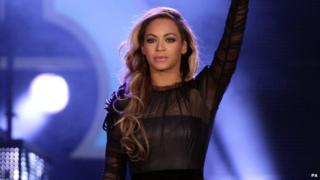 Beyonce has headlined a star-studded concert in London to raise awareness of girls' rights.
Jessie J, Rita Ora and Ellie Goulding also played at the Sound of Change gig at Twickenham Stadium on Saturday.
They were doing it for Chime for Change, a campaign to promote education, health and justice for girls and women across the world.
"There a lot of people who just don't think about it, that just don't talk about it," Beyonce said.
"We don't want to [put up with it] anymore. And I think that's why we're here. It starts with change, it starts with now."